PAGE SELECTION PIANO





---

- and how to contact us

---

- download our magazine

---

---

- what we sing

Concert Diary

---

- when and where we sing

---

- since 1903

---

---

- and how to become one

---

- and how to become one

---

---

- latest choir news

---

- pictures old and new

---

- with grateful thanks

Concert Engagements
The choir is happy to consider requests for concert engagements. We ask a third of any profit made as our fee. All concert requests should be made to the Secretary
1661 832162 or click here to email the secretary
---
Thanks to all who supported our previous concerts
9 Nov 2013 for Josie's Dragonfly Trust raised £544
30 Nov 2013 for Arthritis Research UK raised £211
21 Dec 2013 for Great North Air Ambulance raised £159
15 Mar 2014 for Clarence Adoo Trust raised £680
12th Nov 2016 for Haiti & Cuban Hurricane Appeal £600
19th Nov 2016 for Bedlington SA Children's work £400
1st July 2017 for Huntington's Disease Association £970
including a contribution of £250 from Prudhoe Methodist Church's Charity Fund
and along with other groups
18th Dec 2014 at Metro Centre for Samaritans £194
20th Dec at Heighley Gate for St Oswald's Hospice £960.13
6th June 2015 Annual Concert £300 for Samling Foundation
11th June 2016 Annual Concert £150 for Samling Foundation
20th May 2017 Annual Concert £200 for Samling Foundation 19th May 2018 Annual Concert £450 to Marie Curie Care and Hope for South Africa's Children
---

EVERY MONDAY AN OPEN EVENING


Can you imagine singing Pavarotti's "Nessun Dorma"
or Josh Groban's "You Raise Me Up" right at the heart
of a Male Voice Choir? If you have enthusiasm and a good sense of fun join us on


Mondays at 7.15pm

at Prudhoe Methodist Church


You will enjoy the experience - who knows you may even come back again!
---
Saturday 15th June 15th September 2018 at 7.00pm


Prudhoe Methodist Church
Harvest Celebration

Ticket £5 (children free)

from
Anne Chapman 01661 833465
or Neville Fairbairn 01661 832162

---
---
---
Ticket enquiries:
please email the secretary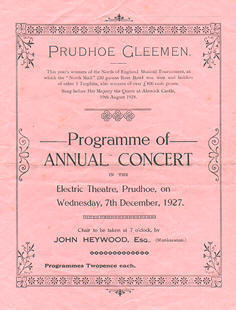 Annual Concert 1927
Our extensive archive does not record how many of these programmes were sold for the Annual Concert in 1927.
They were priced at two (old) pence each so maybe you could have had all of them for about One Pound.




Our choir in 1927 (see our Gallery page)